>Easy shopping
Secure SSL connection
Free hotline service
Shopping safely
NEW Official NanoDLP Controller Board Kit Introduction Here you'll learn about the NanoDLP...
meer
Productinformatie "NanoDLP controller board"
NEW Official NanoDLP Controller Board Kit


Introduction
Here you'll learn about the NanoDLP controller board, what things you need to use it, and how to set it up.
NanoDLP controller board is a 3D printer electronic kit, which makes it easy to upgrade your existing 3D printer with NanoDLP or make your own 3D printer.
The controller board is more reliable and an advanced alternative to NanoDLP shield. Find more Information on the NanoDLP Controller Board page.
Online Interface Demo
To see the NANODLP online interface demo please click http://nanodlp.com:8080
What is included in the NanoDLP Controller Board Kit
NanoDLP controller board comes with following hardware:
| Part | Quantity |
| --- | --- |
| NanoDLP Controller Board | 1 |
| Trinamic TMC2209 | 1 |
| NanoDLP Preloaded on a High Speed 8GB SD Card | 1 |
| TFT 3.5″ HMI Touch Screen | 1 |
| Controller USB Connector | 1 |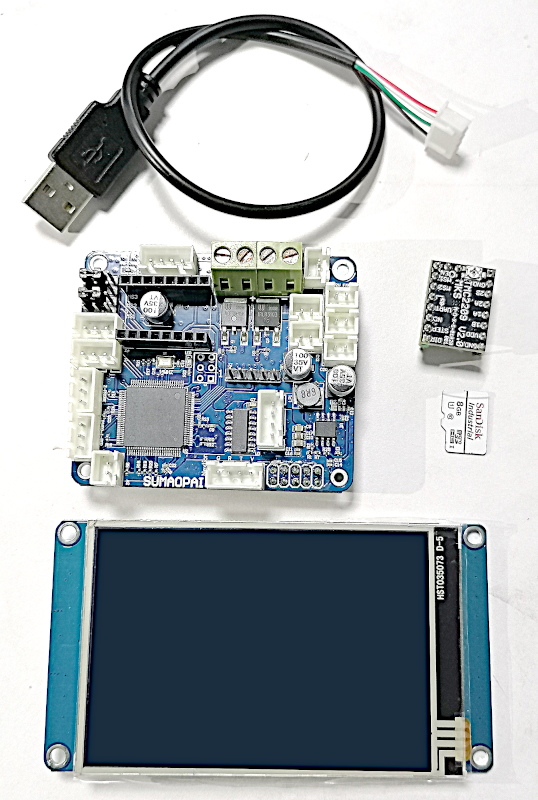 What you will need
Which Raspberry Pi
Even-though NanoDLP runs on all Raspberry Pi versions, it is the best to get Raspberry Pi 4 B as its performance is higher than older versions.
If the 3D files you plan to print are under 100MB, 1GB Pi 4 will be enough. For larger files it is better to get Pi 2GB or even 4GB.
HDMI Cable
To connect LCD / Projector to Raspberry Pi you will need an HDMI cable. For Pi 4 you will need micro HDMI – HDMI cable.
Power Supply
Stable power supply with 12~24V 5~20A output.
3D Printer Hardware
To use NanoDLP controller board you need to wire it to the following hardwares inside your 3D printer:
Stepper motor
LCD Driver or Projector with HDMI connector
Min endstop switch (NPN)
Optional Hardware
Fan
Min / Max Limit Switches
Beoordelingen lezen, schrijven en discussiëren...
meer
Klantbeoordelingen voor "NanoDLP controller board"
Beoordeling schrijven
Beoordelingen worden na controle gepubliceerd.